So first, the official announcement: it is with a heavy heart that we have taken the decision to cancel Creation Fest 2020. With things as they are, we felt it the best way to protect our volunteers, guests, and of course, our wider community. You can read our full trustee statement here. We'll be refunding 100% of all camping fees already paid (more on that below) and are still hard at work here in the office.
Of course, we are SO disappointed to not be spending our best week of the whole summer with all of you, but we are already planning for a 2021 that will be better than ever, so please bookmark the dates right now and make sure that you join us 31 July – 6 August 2021 at the Royal Cornwall Events Centre, Wadebridge!
And of course, Creation Fest is not just one week in August (as GREAT as that one week is!) and so make sure that you keep up to date with all that we have going on digitally by liking our Facebook page, following us on Instagram and Twitter and subscribing to our YouTube channel. Read on for our May Creative Fest plans, our second GLOW digital and a virtual Thy Kingdom Come…
We may not be meeting together in person this summer, but nothing can stop us being together in Spirit, wherever we are right now, praise God!
Questions?
I have already booked my camping – what now?
We'll be automatically refunding 100% of all camping fees already paid. There's nothing that you need to do, but please bear with us, it may take up to 10 working days.
When can I book for 2021?
We don't yet have the booking open for 2021 but please do save the dates (31 July – 6 August 2021). We'll let you know as soon as booking opens.
I'd like to donate my camping fees to Creation Fest – can I?
Thank you so much! Obviously, we are a charity and have already incurred costs towards this year's event that we will not be able to recover. If you would like to make a donation towards our year-round ministry and help us keep Creation fest free for years to come, click here.
Creative Fest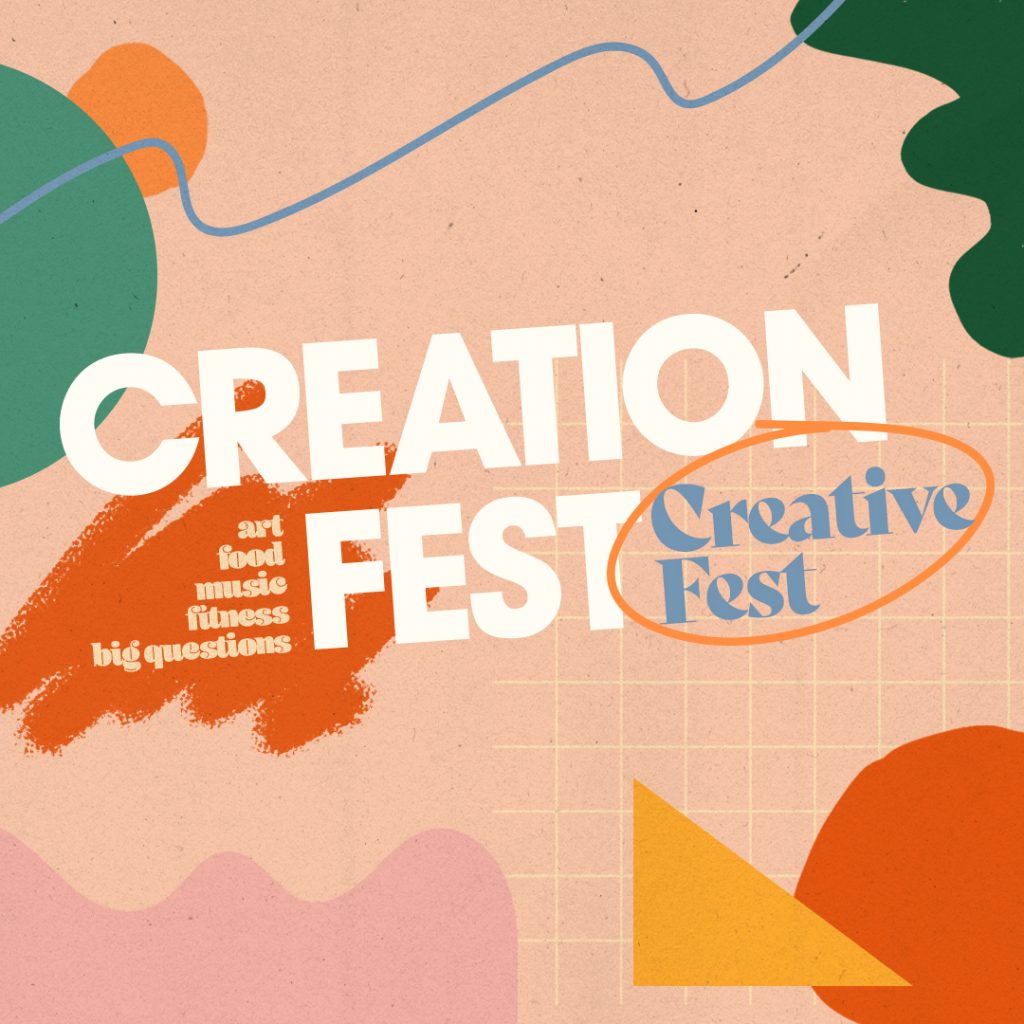 Launching TODAY, we're really excited to be sharing some amazing digital content on our Facebook page every weekday during May to help you explore new areas of creativity AND answer some of life's big questions.
Coming up we have fitness videos, art tutorials, weekly recipes, a live Q&A with Wildwood Kin, a vocal workshop with Josh Curnow and so much more! We'll also be interviewing friends of the festival live on Facebook every Wednesday at 4pm to tackle some huge questions around Christianity and the Coronavirus.

Check out the full programme on our blog and tune in for some May Creative Fest fun!
Sharing Jesus in an upside-down world
We loved May's digital Glow so much, that we're doing it all again on Friday June 5!
If you are aged 11-18 years, join us and the lovely Rachel Gardener from Youthscape, exploring how we share Jesus when everything around us feels upside down!
The Blessing
What an extraordinary blessing to receive the truth sung in unity by the UK church.
We loved seeing so many friends joining into this video. Thankful for Guvna B, Lucy Grimble, Worship Central, HTB Church, Hillsong Church London, Soul Survivor Watford, Sounds of New Wine, Steph Macleod, KXC Worship, Noel Robinson, and SO MANY others coming together to remind us that our God's face is turned towards us. He gives us peace.

Our buildings may be closed but the church is very much alive!
Thank you for standing with us in prayer at this time. We so appreciate it! Our prayer is that YOU see the kindness of Jesus in the everyday unusual rhythms of this season, and that we can say together that "our soul  waits for the  Lord; he is our help and our shield." (Psalm 33:20)